Affiance (Farewell Tour), Sirens and Sailors, Valatie Kills , Across the white water tower , Feed the Addiction
Fri
April 21, 2017
6:00 pm
EDT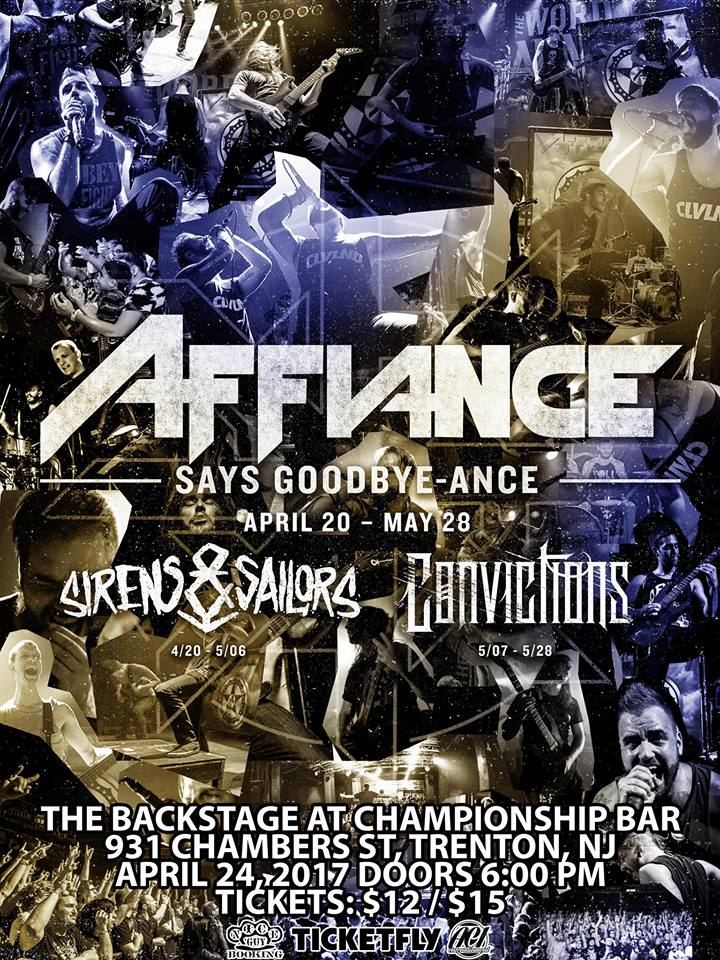 $15.00
Affiance (Farewell Tour)
Sirens and Sailors
Taking a cue from technically-minded metal acts like Meshuggah and Cynic, metalcore bands are cramming 939 guitar riffs into single songs these days. But how many of them can actually craft something memorable – and dare we say – timeless? Thankfully, Rochester quintet Sirens and Sailors put as much time into the actual craft of songwriting as they do on their labyrinthine arrangements. Skeletons, Sirens and Sailors' sophomore album and debut for Artery Recordings/Razor & Tie, finds the band masterfully striking a balance between ferocity and hook-laden melodicism throughout its 12 tracks.
Recorded and mixed by Carson Slovak (August Burns Red) and Grant McFarland (Affiance), Skeletons is the result of years of hard work and DIY touring. It's no surprise since Sirens and Sailors call the blue collar city of Rochester, N.Y., home. "Once we had material we were proud of, we didn't wait till we got a booking agent to go out on the road," says singer Kyle Bihrle, who helped form the band in 2005. "I actually booked the first tour we ever went on and it was a disaster since we had gigs locked in all the way to Texas, but then nothing on the way back to New York. But the funny thing is that it was all worth it."
With more touring, plus two EPs and a full-length called Still Breathing under their belts, Sirens and Sailors – who besides Bihrle features Doug Court [drums], Todd Golder [guitar, vocals], Jimm Lindsley [guitar] and Steve Goupil [bass] – knew it was time to start a new chapter in their career.
"Mike Milford from Artery started talking with us around the time we self-released our Still Breathing album. Once the band had about half of the new album written, we let Mike know that we were looking for a label and that our ultimate goal was to be on Artery. He was onboard and we made the deal happen," reveals Bihrle who is also thrilled that Sirens and Sailors can now say that they are part of the family of artists at the labels. "No one understands this kind of music better than Artery. The fact that they go through Razor & Tie makes it even cooler since they have such a diverse roster of artists."
As undeniably heavy a statement as Skeletons is, the album is still a diverse affair, featuring dynamic peaks and valleys from end to end. "We wanted Skeletons to be a diverse record and reflect many of the different types of metal and other genres of music we all love in the band. But listening to the album now, it all feels cohesive and I'm really proud of that," says the singer.
Besides its diversified influences and technical feats, Skeletons proves that Sirens and Sailors know their way around the kinds of arena-ready melodic hooks that are both timeless and instantly satisfying.
"Before we have final titles for our songs, we give them jokey working titles. 'Not That Easy' – one of the songs that ended up on the album – was originally called 'Pop-Punk Song' when we were working on it since it was so catchy and upbeat. I think when people listen to 'Not That Easy' on the album, they'll understand why we originally had the pop-punk thing in our heads," laughs Bihrle.
Sirens and Sailors also take a moment on Skeletons to pay tribute to their east coast, blue collar roots. "We're extremely proud to be from Rochester and to be able to represent our city the way we do," Bihrle says while discussing "Born & Raised (Flower City)," a relentlessly propulsive track on the album dedicated to their beloved city. Another standout moment on Skeletons that stays true to the band's working class upbringing is "Exorcist," a song featuring a particularly savage vocal from Bihrle. "I wrote that one during a time when I was working a job and struggling to find the money to be able to stay in the band and make it all work. I think that's why my vocals sound so angry on that track."
Bihrle's show stopping vocal performances are matched in intensity by Golder and Lindsley's dizzying guitar work, which blends spidery fret work and shred-crazed solos with the fluidity of jazz fusion. All in all, Skeletons transcends the metalcore label Sirens and Sailors have been tagged with in the past. "The album is a journey. If you listen to it from start to finish, you'll see how it's not just about one song or a single concept. We wanted the listener to sit with the record and take it all in as one complete thought. We weren't worried about whatever people expected from us or a genre. I think we pulled it off."
Valatie Kills
Across the white water tower
Feed the Addiction